Performances for All Ages!!
We will bring a show to your town.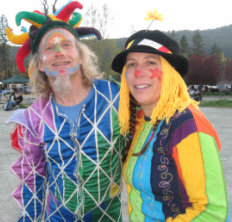 A variety of acts to amaze, creative play becomes a craze.Unicycles and Juggle Pins, Torches, Machetes too. Events become Parties — Your Party will be an Event. For Schools and Camps we teach circus arts and interpretive games
to turn lesson plans to cooperative play. Natural Sciences are a specialty.


A.O'Kay and Nani Nature


---
Conact us today!
circusnature@circusnature.com
aokay@aokayclown.com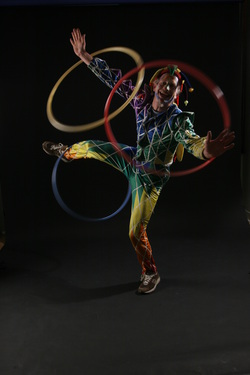 Spinning Hoops
---
A review in the Trinity Journal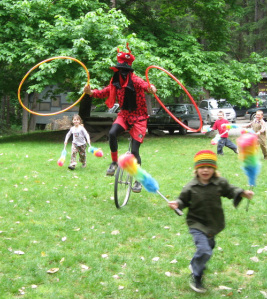 The juggler and his wife were a three-ring circus all on their own. The kids were clustered to watch A O'Kay ride his unicycle and juggle long saber swords simultaneously. Then he juggled three burning torches while keeping upright on his slender cycle. The children were riveted. With big eyes and sincere nods they agreed to stay safe and not get into any danger. A O'Kay and Nani Nature brought a truckload of colorful equipment that was imaginative and fun. Big colorful rings like hula hoops were provided for throwing at the clown to try and knock him off the unicycle. He caught the rings on his arm while keeping his balance and pedaling rapidly around and around keeping upright. The clown and wife, Nani Nature, from Willow Creek, dressed in harlequin outfits, radiated love for children. In general it was like a three-ring circus with the bands playing front and center, the food spread out on the fire house porch and the very lively clown doing unimaginable feats of skill on the other side.


---